Add some stars to your marketing team!
The founder and president of Pier 8 Group, Bob is a dyed-in-the-wool big picture guy. As the company's chief brand strategist and creative director, he works with the agency's clients to develop and build their brands.
Bob is a member of RGD Ontario, the provincially-chartered association of graphic designers. He taught communication design in the Public Relations program at the University of Western Ontario from 2005 to 2010. Today, he volunteers in the RGD's mentorship program to help young designers get started with their careers.
While passionate about design, Bob is definitely a "numbers" person. He is a graduate of McMaster University's economics program and notoriously likes to "do the math" when working with clients to develop their business strategies.
Born and raised in Hamilton, Bob left the city in the early seventies to live and work in Toronto and Montreal, returning in the eighties to continue his education at McMaster. After graduating from Mac, he established a design business that was eventually to become Pier 8 Group.
Bob lives in Hamilton, Ontario.
Jeff has worked for 30 years as a researcher, writer and communications professional. From 1986-96, he served as Director of Public Relations and Communications at the CUMIS Group, the national insurance arm of Canada's credit union movement. A talented writer, strategist and communicator, Jeff has an exceptional ability to observe, construct and analyze the "big picture." He has a natural talent for engaging stakeholders in conversations that reveal attitudes and opinions and generate ideas and insight.
Jeff has a BA in Labour Studies and an MA in Work and Society (McMaster University), and a Diploma in Media Arts Writing (Sheridan College). He is accredited in public relations and is a Fellow of the Canadian Public Relations Society (CPRS). Jeff is a past-president of CPRS Hamilton. He is a recipient of the CPRS Hamilton Mentorship Award; CPRS Hamilton Distinguished Service Award; and the CPRS Hamilton William Cockman Memorial Award of Excellence. He has received more than 35 awards for his writing and work in research and communications.
Jeff has been involved in qualitative and quantitative research for 20 years. His experience includes project design, survey development, managing projects, analysis, report writing and client consultation. He is the author and lead researcher of the 2017 Hamilton Millennial Survey, a study focusing on precarious work and its affect on the health, quality of life, household well-being and financial security of the millennial generation.
He has served on the Business Community Editorial Board for The Hamilton Spectator, is a contributing writer for Hamilton Magazine and BIZ Report, and has served as a member of the Burlington Chamber of Commerce marketing committee and the Hamilton Chamber of Commerce transportation committee. He was the academic program advisor and lead instructor of the University of Western Ontario's post-graduate program in Public Relations from 2005 to 2008, as well as the lead instructor of Sheridan's post-graduate Corporate Communications program (1999-2002).
Jeff is a resident of Burlington, Ontario.
A graduate of the Graphic Communications program at Canadore College, Judy's experience in graphic design spans more than two decades. As a member of the Pier 8 Group team, she has been responsible for the design and production of various print and web-based publications for Environment Canada, McMaster University and the Ontario Dental Hygienists' Association.
As a member of our web design team, she has assisted many organizations in creating and updating their websites. Her design and development skills have been instrumental in building sites for Hamilton City of Music, Music Hall Hamilton, the Centre for Compassion & Wisdom, Grape Growers of Ontario, Affordable Housing Halton, and the Niagara Immigrant Employment Council, among others.
Judy has a strong interest in community affairs and has been actively involved in the co-operative housing sector. She has served as a member and president of the board of directors of Stoneworth Co-operative Homes. She is also active in the Golden Horseshoe Co-operative Housing Federation and is frequently called upon to chair co-op meetings and direct workshops at Federation conferences. Judy is a resident of Hamilton, Ontario.
Dr. Paul Seccaspina is the principal and founder of Oraclepoll Research Ltd., a national research firm with offices in Toronto, Montreal and Sudbury. The company works with industry, government and the not-for-profit sector to deliver timely and relevant information to support business planning and decision-making.
Paul earned his BA from Laurentian University (1986), an MA from the University of Western Ontario (1988), and his PhD from the University of Warwick (1997). He founded Oraclepoll in 1993 after a career in banking and several years as a lecturer at universities in Canada and abroad, including the Czech Republic, Romania and Moldova.
His colleagues and friends know him as "a real smart guy". He asks lots of questions and he's all about the numbers. Hardworking and dedicated, he is the consummate professional.
When he's not travelling the highways between Oraclepoll offices, Paul lives in Sudbury where he works out daily and enjoys gardening, cooking and spending time with his children.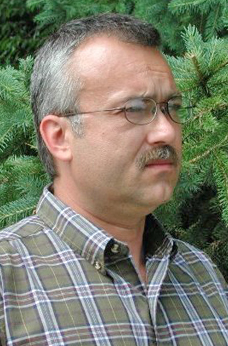 Bernie Solymár
B.Sc. Honours (Agriculture)
M.Sc. (Biology)
Ecotourism and Agriculture Consultant

 Read more on Linkedin
Bernie is the president of EarthTramper Consulting Inc., a unique Canadian company specializing in the development and delivery of land stewardship practices for rural landowners and consultation services in the areas of ecological monitoring, conservation, sustainable agriculture, nature education and responsible eco-tourism.
He has extensive experience working with a wide range of businesses and organizations in both the public and private sector. He has led nature and farm tours all over the world; conducted ecological inventories in the Carolinian Life Zone; and initiated responsible eco-tourism programs in Canada and Cuba.
Bernie has a B.Sc. in Biology from Brock University (1983), a B.Sc. Honours in Agriculture from the University of Guelph (1985), and an M.Sc. in Biology from Brock University (1988). Prior to launching EarthTramper, he worked for 13 years with the Ontario Ministry of Agriculture and Food as an integrated pest management specialist for horticultural crops. He currently serves as the executive director of the Asparagus Farmers of Ontario.
Bernie lives in Port Ryerse, Ontario where he is an active volunteer in his community, sits on several committees and boards, fund raises for local projects, and is involved in local youth soccer programs.