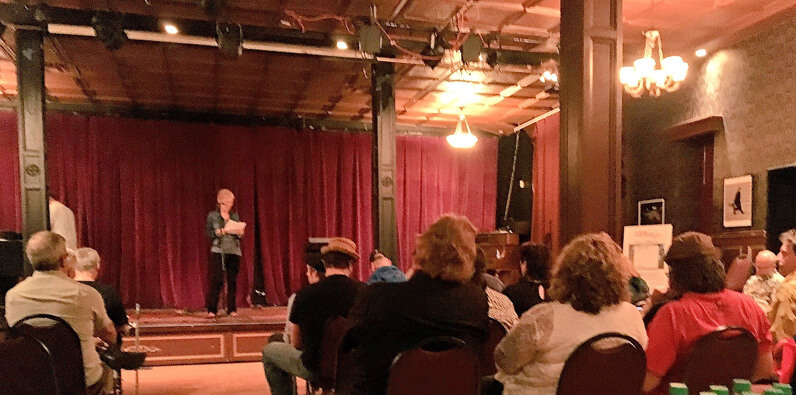 Is Hamilton a City of Music? Mother Nature Says Yes
posted by Bob Mills
Is Hamilton a City of Music? Does it have the chops to hang with other great music cities like Seattle, Memphis, Nashville, Melbourne and – good God – Toronto?
As the heavens opened up and the rain poured down, washing out streets and a portion of the Gasworks parking lot, we nervously waited to see who would turn out on this hot, humid and torrential night to share their thoughts on our Hamilton Music City branding initiative. For a few minutes we were worried this would be one of those "small but mighty" gatherings, as the City of Hamilton's Jackie Norton likes to call it, and that we wouldn't need all those chairs we had carefully set out.
As the 7:00 p.m. start time approached and Big Rude Jake tuned his guitar, a trickle of musicians and music industry folks began to pass through the doors. A few minutes later the meeting room was filling up and buzzing with excitement as musicians, music promoters, venue operators and the rest of us were milling about, greeting old friends and, of course, complaining about the weather.
It was a crowd that appreciated Jake's bluesy rhythms and it was a perfect way to open a meeting whose goal was to promote the cause of live music here in our city. After greetings from Jackie Norton, the Music Strategy Team's co-chair Jeff Martin spoke about the work the Team had been doing over the past three years and the progress they had made in engaging the music community. Bob Mills updated the crowd on what he and his Pier 8 consulting team have been doing to gather input from industry stakeholders and he presented the arguments supporting the idea of Hamilton as a "music city".
The interactive session following the speeches inspired the most interest. Around the room we set up tables with posters that showcased the brands and marketing activities of other music cities around the world. The crowd divided up into smaller groups, assembling in front of each of these stations. Our facilitators introduced their poster themes and asked and answered questions.
The posters featuring music event listings on the Ontario Live Music website attracted a lot of interest from musicians and music promoters, many of whom were unaware they could put their events on a site that thousands of music fans are already using to search for live music. Other poster stations highlighted music branding initiatives in Toronto, Nashville, Glasgow and Seattle.
As we had hoped, members of the crowd turned these poster sessions into a two-way conversation that generated some really interesting ideas about how we can promote live music here in Hamilton. Our "scribes" jotted down notes so we wouldn't forget the best ones, which we plan to incorporate into our planning process. When everyone had completed their rounds of all the poster stations, we gathered them together and thanked them for their help.
As our guests filed out and headed for the parking lot, the rainfall, now reduced to a drizzle, seemed to affirm the sense of calm and relief we all felt following a great public meeting. What could have been a Mother Nature washout turned out to be a really cool learning experience where everyone had a chance to share their views.
By the way, kudos to the Park St. Gasworks for helping us to host this event. The Gasworks is a great venue for rehearsals and musical performances that we would highly recommend to everyone.