What Makes a Great Winery Website?
posted by Bob Mills
Unlike great wines, winery websites definitely don't improve with age, as we recently discovered when we toured the sites of Niagara area wine producers.
We visited 98 winery websites in total, grading each on their visual appearance, ease of navigation, quality of content and functionality. Top scores – a "four cork" rating – were given to those who excelled in all of these categories. Lesser sites were given fewer corks, while a few didn't even rate a screw-top cap.
The Drum Roll Please
A 4-cork rating was handed out to the top 30 sites. If the site was visually appealing, had good navigation and interesting content, we gave it the top grade. Maybe that was just an "Easy A", but we preferred to cast a wide net and embrace a variety of design ideas and solutions.
In the 3-cork category, we counted 15 sites that garnered comments ranging from "not bad" to "stunning brand but the text is hard to read." With a bit of attention, these runners-up could easily jump to the A-list.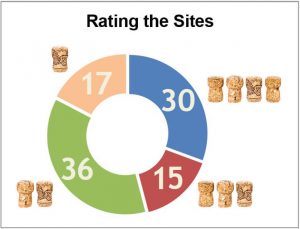 There were 36 sites that received a 2-cork rating. Comments ranged from "ho hum" to "good looking landing page but where the heck is the rest of the website?" Definitely candidates for an extreme makeover.
At the bottom of the old oak barrel were 17 sites that garnered a 1-cork rating (or worse). A few of these were described as "super bad" and "this website was created in the stone age!" Sorry folks, by this time we were finding it awfully hard to say nice things.
One might guess that the best websites were those of the largest companies. In fact, two of the biggest – Constellation Brands and Diamond Estates – scored two corks each – not exactly Ivy League marks for brand-conscious businesses. Way too corporate and not consumer friendly. Much more successful were many of the smaller and mid-size wineries, most of them family-owned firms. These smaller companies seemed to appreciate that their website is an important brand touchpoint and deserving of some love.
It's All About the Brand
A winery website is the perfect place to do some storytelling and develop the personality of the brand. So how do Niagara wine producers fare here?
On the whole, pretty well – especially the ones that made our A-list. Organized Crime took an interesting approach, focusing its brand story on how the winery got its name. Apparently, in the early 1900s there were two Mennonite congregations feuding over the acquisition of a pipe organ. It ended with one group breaking into the other's church, seizing the organ and throwing it down an embankment – hence the name Organized Crime. Apocryphal or not, the story adds some personality and colour to the company brand.
Family traditions are a common branding strategy. Although many Niagara wineries have been established in the last 20 years, some like Peller Estates and Reif Estate go back several generations. You can sense the pride these owners have for what their parents and grandparents achieved and the blood, sweat and tears that were shed to deliver each and every drop of the sacred nectar.
Personal brands are another engaging solution. The Megalomaniac brand of John Howard and the Two Sisters Vineyards of Melissa and Angela Marotta are outstanding brands with personalities closely linked to their founders.
Attracting tourists and visitors is the preferred approach for many smaller wineries. Good Earth Vineyard and Winery showcases its excellent restaurant, while Hernder Estate Winery and Caroline Cellars prominently feature opportunities for wedding ceremonies in a romantic and memorable setting. Di Profio Wines actually has its own Bed & Breakfast where visitors can stay while visiting in the region. Calamus Estate Winery has an astronomical observatory on site, available for stargazer group events – how cool is that!
Organic wines are a specialty of Frogpond Farm, Reimer Vineyards and Southbrook. Specialty beverages made from fruit (Sunnybrook Farm Estate Winery) and honey mead (Rosewood Estates) are key differentiators for their respective owners.
Features and Functions
A winery website, by definition, should have a stunning visual appearance. The grape-growing and wine-making experience is inherently photogenic, so there's really no excuse for a website that's less than eye-popping. The winery website should also incorporate features to support brand storytelling, the winery's visitor attraction strategy and wine sales. Some of the special features we noted include:
photo galleries, image sliders and videos;
aerial drone videos that give a birds eye view of the estate;
online stores with e-commerce payment systems;
modern page navigation schemes; and,
mobile-friendly sites for smart phone users.
Online Stores
For small producers, especially those whose vintages aren't sold in the LCBO, an online store is an important website feature. Between the Lines Family Estate Winery in Niagara-on-the-Lake is one of the companies that only sells direct. For owners Yannick and Greg Wertsch, their WordPress website and Shopify store are important marketing tools to support winery sales.
As web designers, we were interested to know which development platforms are being used to build winery websites. We were pleased to see many WordPress sites (21) with WooCommerce stores (9) – our two preferred development platforms here at Pier 8 Group. There were also a number of Shopify stores (4) and other e-commerce systems.
Caroline Cellars had one of the prettiest stores – you can never go wrong with great photography and page design. Best in class for its wine notes was Kew Vineyards – very helpful for shoppers who want to know more about the wine before they buy.
The Future
Niagara wineries, like most family-owned businesses, keep a careful watch on their marketing dollars. In some cases, that's meant extending the shelf-life of an old website and postponing investment in a new one until it's absolutely necessary. Currently, it's about a 50-50 split between those who've already made the commitment to raise their digital game and those who are still clinging to what they've got. Look for that to change in the next few years as new marketing channels open up for Ontario wineries in grocery stores and farmers markets, and competition heats up among producers.
Learn More
If you're a winery owner or craft brewer and you'd like to know how you stack up against the competition, let us know. We're happy to share what we've learned. If you're looking for help in creating a new website, we'd like to show you what we can do. Connect with us and we'll call you back.