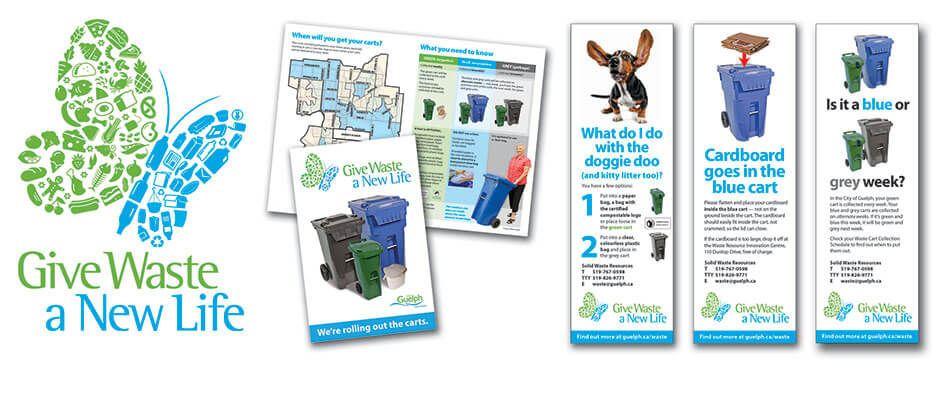 Give Waste a New Life
Introducing Automated Waste Collection to the City of Guelph
In an effort to divert more waste from the landfill, the City of Guelph undertook two significant initiatives beginning in 2011. The first was the construction of a new composting plant to process organic waste. The second was the introduction of waste carts and a fleet of automated waste collection vehicles to increase the efficiency of the collection process. To communicate these changes, the City hired Pier 8 Group to brand, plan and implement a public awareness campaign.
Our brand solution revolved around the slogan Give Waste a New Life. The logo we created is a butterfly whose wings show the two material streams (recyclables and organics) that are collected and reprocessed to "give waste a new life". We also designed marketing tools, including:
maps, brochures, user guides and collection calendars
posters and displays
ads for local newspapers
a series of radio commercials and transit ads
a script and storyboard for an educational video
The campaign to educate residents on the new waste sorting rules resulted in an increase in sorting compliance, while our awareness campaign promoting automated collection resulted in 99% of households using their carts on their first regularly scheduled collection day. The City also experienced a big rise in waste diversion. In 2012 Guelph topped 400 other Ontario municipalities, with an overall residential diversion rate of 67.7%.
The campaign also received numerous communications awards, including:
Gold Excellence Award for from the Solid Waste Association of North America
Gold Award from the Recycling Council of Ontario
Silver Promotion and Education Award from the Municipal Waste Association
Pinnacle Award from CPRS Hamilton